Explore The Woodlands, Texas
About The Woodlands, Texas
The Woodlands is one of the most beautiful communities in Texas, it was also awarded the best cities to live in America by Niche in 2021. The master planned community was originally founded by George P. Mitchell in 1974. The Woodlands is a 28,000-acre forested community, it is the perfect place to enjoy life's simple pleasures. The Woodlands is located 28 miles (45 km) north of Houston along interstate 45, its primarily located in Montgomery County, with portions extending into Harris County. The Woodlands is divided into nine Villages, with each village containing residential enclaves, as well as village centers which all offer a variety of grocery stores, restaurants, shops, and recreational facilities. The nine Woodlands villages are Grogan's Mill Village, Panthers Creek Village, Cochran's Crossing Village, Indian Springs Village, Alden Bridge Village, College Park Village, Sterling Ridge Village, Creekside Park Village, Carlton Woods Village.
Explore The Woodlands, Texas
The Woodlands is home to a number of large companies including ExxonMobil, Huntsman, Hewitt Associates, Maersk Sealand, Chevron Phillips, Anadarko, Lexion Pharmaceuticals, and Woodforest National bank. Two of Houston's main job centers, Downtown Houston (30mins) and the Energy Corridor (45mins) are also just a short drive away.
Some of Houston's highest-rated public and private schools are located in The Woodlands. School districts that serve The Woodlands include Conroe ISD, Magnolia (MISD), and Tomball (TISD). The community houses 30 childcare centers and preschools, an Academy of Lifelong Learning for seniors, as well as undergraduate and graduate degree programs at Lone Star College-Montgomery, Lone Star College-University Center, and Sam Houston State University. These institutions are available within the comforts of The Woodlands.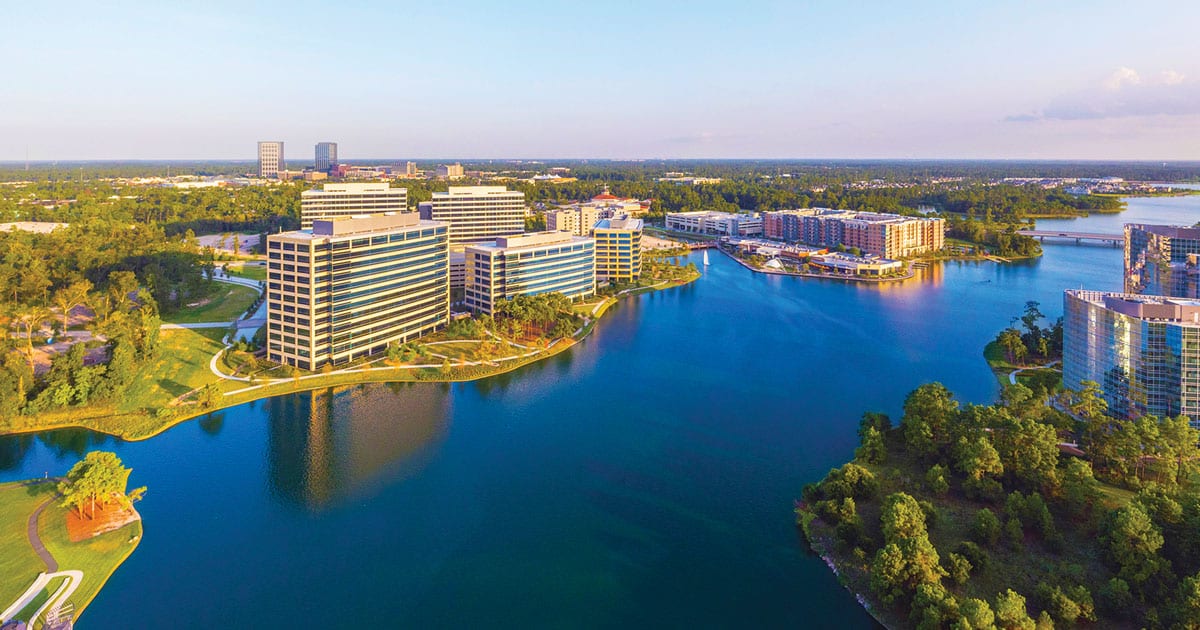 What To Do in The Woodlands
The Woodlands Children Museum - The Woodlands Children's Museum is located at the Panther Creek Shopping Center in the heart of The Woodlands between West Panther Creek Drive and Gosling off Woodlands Parkway. The Woodlands Children's Museum is a cooperative learning environment that provides children with multiethnic and multicultural experiences.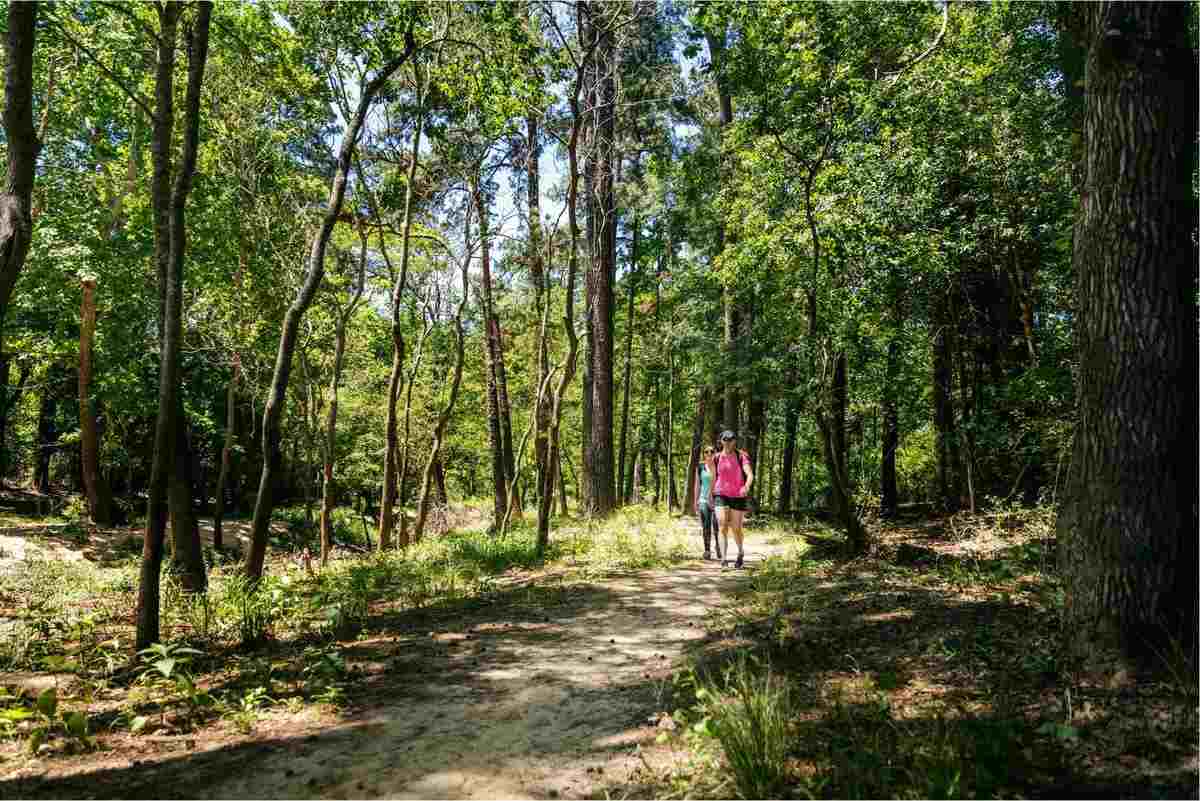 George Mitchell Preserve - With miles of hike and bike trails and exposure to native plants and wildlife, this 1,800-acre preserve connects to the adjacent forest known as the Spring Creek Greenway. The George Mitchell Nature Preserve is part of the Montgomery County Spring Creek Greenway, which will connect and protect up to 12,000 acres of forest on both sides of Spring Creek, and is located in Creekside Village.
Northshore Park- Northshore Park is home to several events throughout the year including YMCA Dragon Boat Races, Concerts in the Park, Memorial Hermann Ironman Texas Start among many others. Park Amenities Include: BBQ Pits Swings Fishing Play Equipment Volleyball Courts The Park is adjacent to Lake Woodlands.
Rob Fleming Aquatic Center - The award-winning Rob Fleming Aquatic Center is located in the Village of Creekside Park and is adjacent to Lake Paloma and Rob Fleming Park. A 500-foot lazy river, two-story flume slide for tubing & the longest in The Woodlands! Tubes are provided. You must be at least 48 inches tall to slide. An interactive play structure with sprays, nozzles, knobs, ropes, staircases, a slide, and a 150-gallon dump bucket Rob Fleming Aquatic Center.
Shankz Black Light Minature Golf - Indoor 18 Hole Golf. Unique place for hosting special events like Birthday Parties, Team Parties, Corporate Team Building, Church Groups, Field Trips, and Fundraisers. Walk-Ins Always Welcome. Shankz Black Light Miniature Golf was awarded First Place honors for "Best New Product" at the International Attraction and Trade Show Expo by the amusement industry.
The Woodlands Market Updates
History of The Woodlands
1964 - George Mitchell and Development Corp. purchased the 50,000 acres Grogan's Cochran Lumber Company land – including 2,800 acres that became the genesis of The Woodlands, marking the original transaction.
1964-74 - In order to put together the initial 17,455 acres, more than 300 transactions were made. The concept of "developing in harmony with nature" was developed, emphasizing the preservation of existing vegetation and the use of a natural drainage system.
1971 - The first public school in The Woodlands, Lamar Elementary School, opens.
1972 - Formal announcement of the HUD agreement to provide $50 million in loan guarantees. On September 6, $50 million in 7.1% U.S. governmental New Community Debentures were issued.
1974-1976 - October 19, formal opening of The Woodlands. Real Estate Division completed its move to 2201 Timberloch Place. 10-year contract signed with the Houston Golf Association to host the PGA Houston Open. The first village of The Woodlands opened, Village of Grogan's Mill. in 1974 The city of Shenandoah is incorporated west of I-45. In 1976, the second village opened, The Village of Panther Creek. McCullough High School opens.
1983-1984 -

In 1983, the Village of Cochran's Crossing opened and the Village of Alden Bridge. In 1984, the Village of Indian Springs opened. Village of Indian Springs is the smallest of the villages, and the only one to not have a public school. The John Cooper School is within this village.

1985 - The Woodlands Hospital opens, and the excavation of Lake Woodlands is completed.
1983-1987 -

Severe economic downturn as energy prices collapsed and Houston market crashed. The Woodlands increased its share of the housing market.

1990 -

The Woodlands' population topped 30,000. In April,

Cynthia Woods Mitchell Pavilion opens, providing an outdoor space for entertainment and live music.

#1 in new home sales and closings in Houston for first time. Total investment exceeded $2,000,000,000. The Arnold Palmer Golf Course opened.

1992 -

The boundaries of Magnolia and Conroe ISDs are realigned, which, at the time, brings all of The Woodlands into Conroe ISD.

1993 & 1995

-

In 1993, construction of The Woodlands Mall began. Formal announcement of Town Center. Community college campus announced. In 1995, the Village of College Park opened. This village is the location of Lone Star College and Sam Houston State University – The Woodlands Center.

1996 -

The Woodlands High School opened. Population exceeded 45,000. Tinseltown Cinema opened in Town Center. 1,053 new homes sold – new calendar year record and 1st time to exceed the 1,000 mark. 7th consecutive year – #1 in new home sales in the region.

1997 -

Population exceeded 50,000. On July 31, 1997 The Woodlands Corporation and all of its assets were purchased by a partnership formed by Morgan Stanley and Crescent Real Estate Equities for $543 million.

2000 -

Opening of Windsor Hills, "active adult" neighborhood. The opening of the Village of Sterling Ridge, which includes the gated community of Carlton Woods, which was initially a village of its own. Resident diver Laura Wilkinson wins Gold Medal at Summer Olympics in Sydney, Australia. All time record of 1,679 new home sales set. Milestone of 100 miles of hike and bike trails reached.

2002 -

Gosling Road Bridge opens, providing a connector to Harris County. The Woodlands Waterway Marriott Hotel & Convention Center opens. The Anadarko Tower is occupied. Chevron Phillips Chemical Co. occupies new building in Town Center. Population exceeds 70,000.

2003 -

First urban residential projects open on the Waterway in Town Center. Market Street project is under way in Town Center. Rouse Company purchases Real Estate Equities' 52.7 percent interest in The Woodlands.

2004-2007 - Market Street opens. In 2007, The Village of Creekside Park opens. The newest village development to be undertaken by The Woodlands Development Company in Harris County. Planned to have 5,516 single-family production homes, 541 age 55 and over homes, 738 multi-family residences, and 298 custom homes and estate homes in the gated community of Carlton Woods Creekside.
2007 -

In November elections propositions pass authorizing the expansion of former Town Center Improvement District to cover The Woodlands, reorganization of the district's board to a seven-member resident-elected board and allowing the district to assess an ad valorem property tax. Town Center Improvement District changes its name to The Woodlands Township.

2010 -

Township assumes full responsibility for Community Association services. U.S. Census shows population at 97,023.

2011 -

The Howard Hughes Corp. buys Morgan Stanley's interest in The Woodlands. ExxonMobil announces plans for a new north Houston campus along the future site of the Grand Parkway near the intersection of Interstate 45 and Hardy Toll Road.

2012 -

Estimated population exceeds 105,000. St. Luke's The Woodlands Hospital undergoes a $25 million expansion project.

2013 -

Hughes Landing, a a 66-acre mixed-use development situated on the 200-acre Lake Woodlands opens. Hughes Landing houses Whole Foods, Starbucks, multi-family housing, Restaurant Row, Embassy Suites, The Hughes Landing Bandstand, walking paths, and so much more.

2016-2017 -

The Woodlands was named "Humanitarian of the Year" in 2017 and 2016 and "Master Planned Community of the Year" in 2015 by the Greater Houston Builders Association.

2017 -

The Woodlands Development Company announces that Waterway Builders, LLC has broken ground on Waterway Landing at East Shore, a 5.4-acre gated enclave of 59 luxury townhomes. Waterway Builders offers three- and four-story townhomes, ranging in size from approximately 2,862 to 4,561 square feet. Homes are priced from the upper $700,000s to more than $1 million.