Homes For Sale in Tomball, Texas
Schedule Your FREE Home Tour in Tomball Today!
Similar Listings in Tomball, Texas
Search Nearby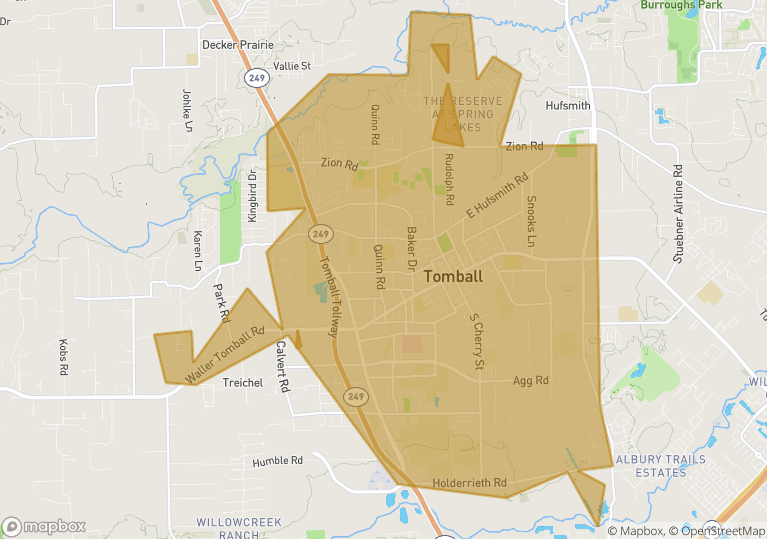 Learn More About Tomball, TX Real Estate
Tomball is a city in Harris County in the U.S. state of Texas, a part of the Houston metropolitan area. The population was 10,753 at the 2010 U.S. census and 11,778 in 2019.[1]
Travel less than 30 miles northwest from the bustling heart of Houston and you'll find yourself in Tomball, a scenic town with old-fashioned charm and plenty to offer all kinds of travelers. If you enjoy shopping, browse the one-of-a-kind wares in Downtown Tomball's boutique clothing stores and antique shops. For an escape to the great outdoors, explore the hiking trails in Burroughs Park or play a round on one of the dozens of nearby golf courses. A variety of museums and a historic train depot that hosts an abundance of spirited festivals year-round are among the other things to experience in Tomball, making it a great choice for a weekend getaway. [2]
Economics in Tomball
Per capita income in Tomball: $32,639
Median household income: $59,164
Persons below poverty line: 14.3%
Mean travel time to work: 25.8 Minutes
Homes in Tomball
Number of households in Tomball: 4,369
Average persons per household: 2.6
Occupied homes / vacant homes: 93% occupied homes / 7% vacant homes
Ownership of occupied homes: 46% owner occupied / 54% renter occupied
Housing in Tomball
Number of housing units in Tomball: 4,694
Single units in Tomball: 63%
Median value of owner-occupied housing units: $211,700
Moved since previous year: 21.7%
Social in Tomball
High school grad or higher in Tomball: 92%
Bachelor's degree or higher: 28.1%
Foreign-born population: 10.8%
Population with veteran status: 6.5%
Recent News and Advice in Tomball, Texas
View All
When you're looking to buy your first home, especially if you have a limited budget, it can seem i…
October 2021 Houston Market Update Real Estate Statistics For Houston October 2021 Houston is the…
September 2021 Houston Market Update Real Estate Statistics For Houston September 2021 Houston is…
Frequently Asked Questions About Tomball, Texas
Is Tomball a good place to live?

Tomball is in Harris County and is one of the best places to live in Texas. Living in Tomball offers residents a dense suburban feel and most residents rent their homes. In Tomball there are a lot of parks. Many families and young professionals live in Tomball and residents tend to have moderate political views. Learn More
What is Tomball TX known for?
As the city continued to grow over the next 25-years, residents had little idea of the economic boon that was about to gush into their lives. On May 27th, 1933 the Humble Oil Company struck oil southwest of town earning Tomball the nationally recognized nickname of "Oiltown USA". Learn More
How far is Tomball from Houston?
The distance between Tomball and Houston is 28 miles.
Is Tomball Texas Safe?
The chance of becoming a victim of either violent or property crime in Tomball is 1 in 34. Based on FBI crime data, Tomball is not one of the safest communities in America. Relative to Texas, Tomball has a crime rate that is higher than 86% of the state's cities and towns of all sizes. Learn More
How far is The Woodlands from Tomball?
There are 10.40 miles from The Woodlands to Tomball in southwest direction and 18 miles (28.97 kilometers) by car, following the FM 2920 route. The Woodlands and Tomball are 22 minutes far apart, if you drive non-stop. Learn More
Is Tomball Texas rich?
The per capita income in Tomball in 2018 was $32,639, which is upper middle income relative to Texas and the nation. This equates to an annual income of $130,556 for a family of four. However, Tomball contains both very wealthy and poor people as well. Tomball is an extremely ethnically-diverse city. Learn More
Who are the top real estate agents to buy and sell real estate in Tomball Texas?
Houston Premium Homes Realty Group family has earned its reputation as Tomball's Top Real Estate Team by always putting our clients' interests first and making the homeownership process simpler to navigate at every step of the way — from pricing your home to having it ready to sell to promoting your listing, to leading negotiations and closing the deal. Houston Premium Homes Realty Group is a one-stop-shop real estate business and is just part of the reason why so much care and attention is emphasized with each and every client. Contact us today for all your real estate questions!
Buying Property in Tomball, Texas
Search Zip Codes Near Tomball, Texas
Search Nearby Tomball, Texas