Schedule Your FREE Home Tour Today!
Similar Listings in 77447
Search Real Estate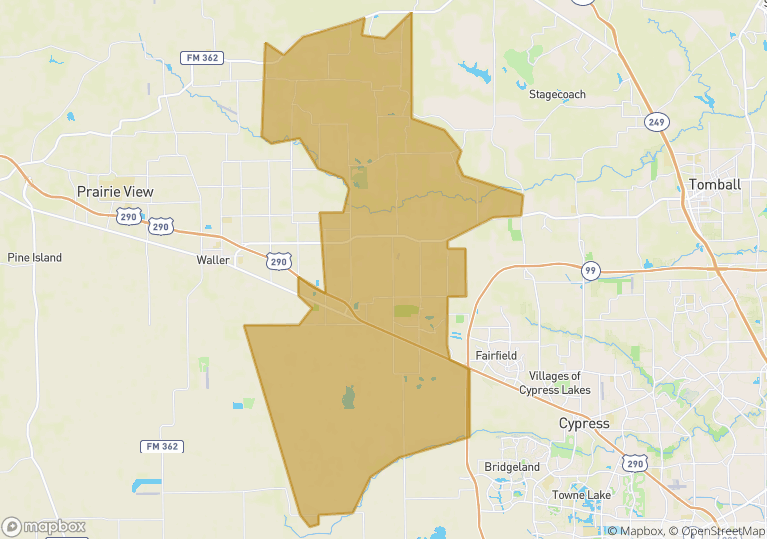 Learn More About Real Estate in 77447
77447 real estate has a small percentage of vacancies. The Census also indicates that there are one or more correctional facilities nearby. The majority of household are owned or have a mortgage. Homes in 77447 were primarily built in the 1990s or the 2000s. Looking at 77447 real estate data, the median home value of $120,700 is slightly less than average compared to the rest of the country. It is also low compared to nearby real estate. 77447 could be an area to look for cheap housing compared to surrounding areas. Rentals in 77447 are most commonly 3+ bedrooms. The rent for 3+ bedrooms is normally $1,000+/month including utilities. Prices for rental property include zip code 77447 apartments, townhouses, and homes that are primary residences. [1]
Zip Code 77447 is located in the state of Texas in the Houston metro area. Zip code 77447 is primarily located in Harris County. Portions of 77447 are also located in Waller County. The official US Postal Service name for 77447 is Hockley, Texas. Portions of zip code 77447 are contained within or border the city limits of Houston, TX, . Zip code 77447 is within area code 936, area code 281 and area code 832. 77447 can be classified socioeconomically as a Middle Class class zip code in comparison to other zip codes in Texas. [2]
Economics in 77447
Per capita income in 77447: $31,319
Median household income: $76,343
Persons below poverty line: 12.9%
Mean travel time to work: 37.5 Minutes
Households in 77447
Number of households in 77447: 5,044
Average persons per household: 3.2
Occupied homes / vacant homes: 94% / 6%
Ownership of occupied homes: 80% owner occupied / 20% renter occupied
Housing in 77447
Number of housing units in 77447: 5,363
Single home units in 77447: 77%
Median value of owner-occupied housing units: $180,900
Moved since previous year: 9.1%
Social in 77447
High school grad or higher in 77447: 84.8%
Bachelor's degree or higher: 19.5%
Foreign-born population: 16%
Population with veteran status: 6.4%
Recent News and Advice in 77447, Texas
View All
When you're looking to buy your first home, especially if you have a limited budget, it can seem i…
October 2021 Houston Market Update Real Estate Statistics For Houston October 2021 Houston is the…
September 2021 Houston Market Update Real Estate Statistics For Houston September 2021 Houston is…
Frequently Asked Questions About 77447, Texas
What county is 77447 in?
77447 is in Harris County.
What is the crime rate in 77447?

The rate of crime in 77447 is 15.37 per 1,000 residents during a standard year. People who live in 77447 generally consider the northwest part of the zip to be the safest. Your chance of being a victim of crime in 77447 may be as high as 1 in 42 in the southeast neighborhoods, or as low as 1 in 113 in the northwest part of the zip. Learn More
Is Cypress Texas rich?
The Cypress urban cluster ranks 50th in the top 100 highest-income urban areas in the United States. Both Cypress Zip codes 77429 and 77433 are ranked among the Top 25 wealthiest in the Houston area. Learn More
How far is Cypress Texas from Houston?
The distance between Houston and Cypress is 25 miles.
Does it flood in Cypress Texas?
The Cypress Creek watershed, like the rest of Harris County, has a long history of flooding. More recent Cypress Creek watershed flood events occurred in 1979 (two separate floods), Tropical Storm Allison in 2001, the Tax Day Flood in 2016 and, most significantly, Hurricane Harvey in August 2017. Learn More
Who are the top real estate agents to buy and sell real estate in Cypress Texas?
Houston Premium Homes Realty Group family has earned its reputation as one of Houston's Top Real Estate Team by always putting our clients' interests first and making the homeownership process simpler to navigate at every step of the way — from pricing your home to having it ready to sell to promoting your listing, to leading negotiations and closing the deal. Houston Premium Homes Realty Group is a one-stop-shop real estate business and is just part of the reason why so much care and attention is emphasized with each and every client. Contact us today for all your real estate questions!
Contact Us About Homes in 77447
Search Nearby Hockley, Texas