Real Estate For Sale in 77389, TX
Schedule Your FREE Home Tour in 77389 Today!
Homes For Sale in The Woodlands By Amenities
Similar Listings in The 77389
Search Nearby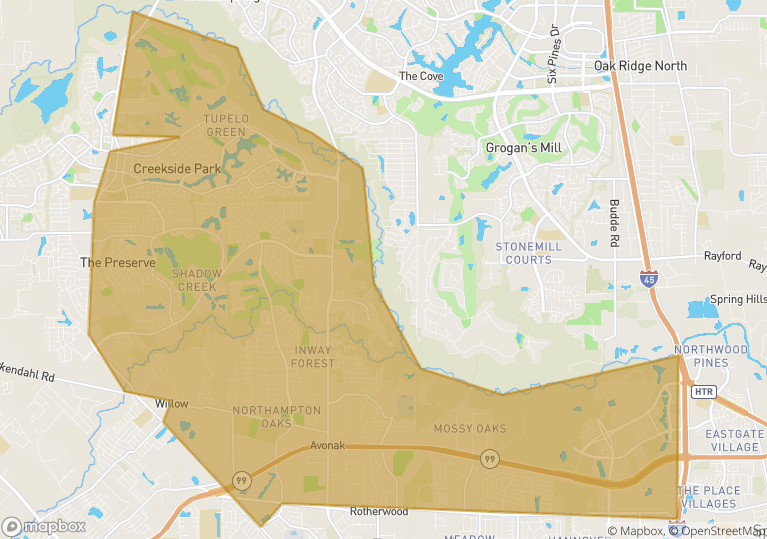 Learn More About 77389, Texas
Zip Code 77389 is located in the state of Texas in the Houston metro area. Zip code 77389 real estate is primarily located in Harris County. The official US Postal Service name for 77389 is Spring, Texas. Portions of zip code 77389 real estate are contained within or border the city limits of The Woodlands, TX, Spring, TX, and Houston, TX. Zip code 77389 is within area code 713, area code 832 and area code 281. 77389 can be classified socioeconomically as a Middle Class class zip code in comparison to other zip codes in Texas. [1]
ZIP code 77389 has a small percentage of vacancies. The majority of household are owned or have a mortgage. Homes in ZIP code 77389 were primarily built in the 2000s. Looking at 77389 real estate data, the median home value of $190,700 is slightly higher than average compared to the rest of the country. It is also slightly higher than average compared to nearby ZIP codes. So you are less likely to find inexpensive homes in 77389. Rentals in 77389 are most commonly 3+ bedrooms. The rent for 3+ bedrooms is normally $1,000+/month including utilities. Prices for rental property include ZIP code 77389 apartments, townhouses, and homes that are primary residences. [2]
Economics in 77389
Per capita income in 77389: $50,001
Median household income: $126,473
Persons below poverty line: 5.3%
Mean travel time to work: 34.3 Minutes
Families in 77389
Number of households in 77389: 12,034
Average persons per household: 3.2
Martial status: 69% are married / 31% are single
Women 15-50 who gave birth during past year: 7.2%
Housing in 77389
Number of housing units in 77389: 13,318
Single units in 77389: 81%
Median value of owner-occupied housing units: $320,000
Moved since previous year: 18.7%
Social in 77389
High school grad or higher in 77389: 96.2%
Bachelor's degree or higher: 54.8%
Foreign-born population: 21.1%
Population with veteran status: 5.3%
Recent News and Advice in 77389, Texas
View All
When you're looking to buy your first home, especially if you have a limited budget, it can seem i…
October 2021 Houston Market Update Real Estate Statistics For Houston October 2021 Houston is the…
September 2021 Houston Market Update Real Estate Statistics For Houston September 2021 Houston is…
Frequently Asked Questions About 77389, Texas
What is The Woodlands Texas known for?

The Woodlands is well known for its extensive parks and recreation, golf, corporate headquarters, schools, places of worship, shopping, dining, hospitality, healthcare and much more. Today, there are 148 parks and 220 miles of hike and bike trails. Learn More
Is The Woodlands Texas expensive?
Compared to most other places in the Houston area and in Texas, yes it is more expensive. It has good schools, lots of shopping, parks, restaurants, hospitals and is a good place to raise kids so it may be worth it to you. It is a safer location than most in Houston as well. Learn More
Is The Woodlands in Houston Safe?
As for more serious crimes, officials reported that except for family violence incidents, The Woodlands is fortunate to have little violent crime. There have been no homicides in the township this year and assaults were down 17 percent, to 78 total reports for the quarter. Learn More
Is The Woodlands Texas a nice place to live?
The Houston suburb ranks second on Niche.com's 2020 list of the best cities to live in the U.S. Aside from being No. 2 overall, The Woodlands ranks as the second best city to raise a family, the third best city to buy a house, and the seventh best city for public schools. Nearly 120,000 people live in The Woodlands. Learn More
Is Houston a good real estate market?
Inventory is low, prices are rising, and buyers are motivated thanks to record low interest rates. But as of March, Houston is still outpacing national numbers, according to the National Association of Realtors. Click here to read that full report. But, if you're in the market, you might not have time to wait and read. Learn More
Is Spring Texas a good place to live?
Spring is a nice area for families. it is conveniently located near shopping centers and grocery stores. You will likely have to drive into Houston for nightlife or a change of scenery. A nice neutral are between highbrow and urban living. Learn More
What is Spring Texas known for?
The most beautiful time of year in Spring Texas has to be without a doubt Spring. The Spring area is known for its award winning, quality education provided by its three independent public school districts of Conroe, Klein, and Spring. Learn More
Is Spring Texas the same as The Woodlands?
Spring is a census-designated place (CDP) within the extraterritorial jurisdiction of Houston in Harris County, Texas, United States, part of the Houston–The Woodlands–Sugar Land metropolitan area. Learn More
Who are the top real estate agents to buy and sell real estate in Houston Texas?
Houston Premium Homes Realty Group family has earned its reputation as Houston's Top Real Estate Team by always putting our clients' interests first and making the homeownership process simpler to navigate at every step of the way — from pricing your home to having it ready to sell to promoting your listing, to leading negotiations and closing the deal. Houston Premium Homes Realty Group is a one-stop-shop real estate business and is just part of the reason why so much care and attention is emphasized with each and every client. Contact us today for all your real estate questions!
Contact Us About Properties in 77389, Texas
Search Nearby 77389, Texas
Search Nearby 77389, Texas