6+ Bedrooms Homes For Sale Humble
6+ Bedrooms Homes For Sale Humble
Schedule Your FREE Home Tour Today!
Similar Listings in Humble
Search Nearby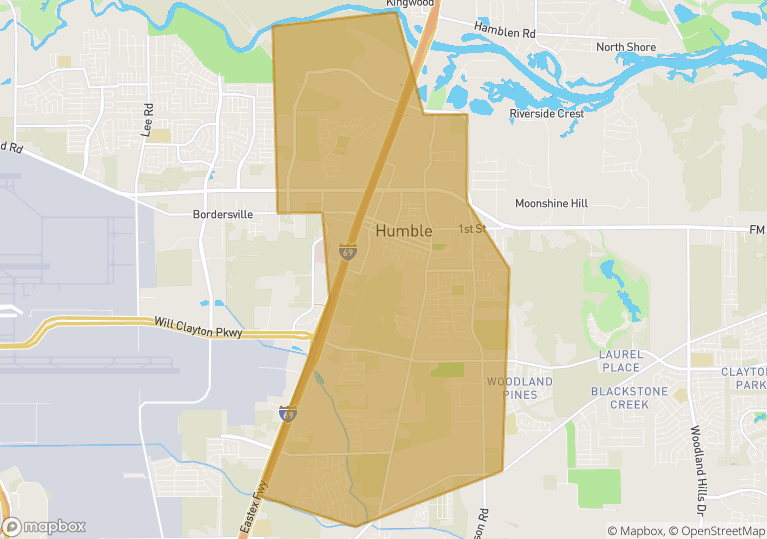 Learn More About Humble Real Estate
Humble is a city located in Harris County, Texas, United States, within the Houston metropolitan area. Famously, Humble became an oil boomtown in the early 20th century when oil was first discovered there in 1904. By 1905, the Humble oilfield was the largest producing oilfield in Texas. As of the 2010 census, the city population was 15,133.[8] The city shares a zip code with the small Houston neighborhood of Bordersville, although people who live in Bordersville still have Humble addresses.
Economics in Humble
Per capita income in Humble: $22,724
Median household income: $41,845
Persons below poverty line: 16%
Mean travel time to work: 25.5 Minutes
Families in Humble
Number of households in Humble: 6,118
Average persons per household: 2.6
Martial status: 43% are married / 57% are single
Women 15-50 who gave birth during past year: 8.8%
Housing in Humble
Number of housing units in Humble: 6,439
Single units in Humble: 45%
Median value of owner-occupied housing units: $122,900
Moved since previous year: 12.8%
Social in Humble
High school grad or higher in Humble: 80.8%
Bachelor's degree or higher: 11.2%
Foreign-born population: 16.7%
Population with veteran status: 6.5%
Recent News and Advice in Humble, Texas
View All
When you're looking to buy your first home, especially if you have a limited budget, it can seem i…
October 2021 Houston Market Update Real Estate Statistics For Houston October 2021 Houston is the…
September 2021 Houston Market Update Real Estate Statistics For Houston September 2021 Houston is…
Frequently Asked Questions About Humble, Texas
Is Humble Texas a good place to live?

Humble Texas is a great neighborhood near Houston without the congestion and higher cost of living. If you are looking for a place to live in Humble, be sure to check out The Place at Fall Creek. It is a clean, safe apartment community with great amenities that residents love. Learn More
What is Humble Texas known for?
Humble became a boomtown in 1904, when oil was discovered nearby and the townsite was laid out. By the time the Lone Star Hotel was built and thirty wells were completed several months later, 10,000 people lived in the area, and by 1905 the Humble oilfield was the largest producing field in Texas. Learn More
Is Humble Houston Safe?
The rate of crime in Humble is 375.92 per 1,000 residents during a standard year. People who live in Humble generally consider the southeast part of the city to be the safest. Learn More
How far is Humble Texas from the ocean?
There are 72.87 miles from Humble to Surfside Beach in south direction and 83 miles (133.58 kilometers) by car, following the TX 288 S route. Humble and Surfside Beach are 1 hour 34 mins far apart, if you drive non-stop . This is the fastest route from Humble, TX to Surfside Beach, TX. Learn More
How close is Humble Texas to Dallas?
Distance between Humble and Dallas is 343 kilometers (213 miles). Learn More
Is Humble a suburb of Houston?
Humble is a suburb of Houston with a population of 15,864. Humble is in Harris County. Living in Humble offers residents a dense suburban feel and most residents rent their homes. Learn More
What side of Houston is Humble?
Humble's forested boundaries take up nearly 100 square miles of land in northeast Harris county. Humble has parks, golf courses, award winning schools, two major hospitals, Deerbrook Mall, "Park 'n Ride" facilities, Lake Houston, and the San Jacinto river, making it one of the fastest growing areas in Harris County. Learn More
Why is Humble Texas pronounced Umble?
Why, exactly, do they pronounce it Uhhhhhhmble? A little research turned up a few interesting facts. Humble Oil, which later became Exxon, was started there. One of the town's founders was a man named Pleasant Humble, who happened to be from England, and whose accent probably accounted for the silent "H" in the name. Learn More
Who are the top real estate agents to buy and sell real estate in Humble Texas?
Houston Premium Homes Realty Group family has earned its reputation as Humble's Top Real Estate Team by always putting our clients' interests first and making the homeownership process simpler to navigate at every step of the way — from pricing your home to having it ready to sell to promoting your listing, to leading negotiations and closing the deal. Houston Premium Homes Realty Group is a one-stop-shop real estate business and is just part of the reason why so much care and attention is emphasized with each and every client. Contact us today for all your real estate questions!
Contact Us About Humble Texas
Search Nearby Humble Zip Codes
Search Nearby Humble Texas