Search By Types of Homes in Katy, Texas
Schedule Your FREE Home Tour in Katy Today!
Similar Listings in Katy, Texas
Search Nearby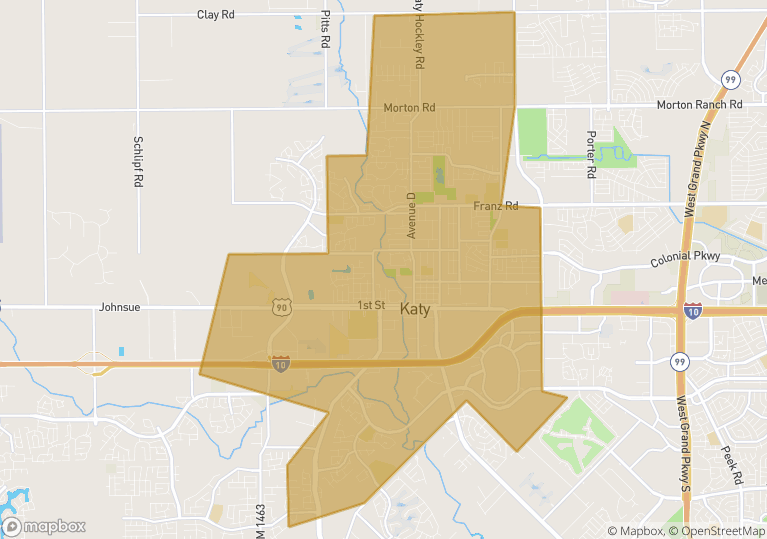 Learn More About Katy, Texas
Katy is a city in the U.S. state of Texas within the Greater Katy area, itself forming the western part of the Greater Houston metropolitan area. Homes and businesses may have Katy postal addresses without being in the City of Katy. The city of Katy is approximately centered at the tripoint of Harris, Fort Bend, and Waller counties. [1]
Katy is a somewhat small city located in the state of Texas. Katy is the 176th largest community in Texas. Katy is neither predominantly blue-collar nor white-collar, instead having a mixed workforce of both blue-collar and white-collar jobs. Overall, Katy is a city of service providers, managers, and professionals. There are especially a lot of people living in Katy who work in management occupations (12.86%), maintenance occupations (9.50%), and office and administrative support (9.12%). Also of interest is that Katy has more people living here who work in computers and math than 95% of the places in the US. [2]
Economics in Katy
Per capita income in Katy: $37,207
Median household income: $83,091
Persons below poverty line: 3.7%
Mean travel time to work: 31.4 Minutes
Homes in Katy
Number of households in Katy: 6,651
Average persons per household: 3
Occupied homes / vacant homes: 90% / 10%
Ownership of occupied homes: 80% owner occupied / 20% renter occupied
Housing in Katy
Number of housing units in Katy: 7,378
Single home units in Katy: 84%
Median value of owner-occupied housing units: $197,300
Moved since previous year: 9%
Social in Katy
High school grad or higher in Katy: 87.5%
Bachelor's degree or higher: 35%
Foreign-born population: 18.9%
Population with veteran status: 7.6%
Recent News and Advice in Katy, Texas
View All
When you're looking to buy your first home, especially if you have a limited budget, it can seem i…
October 2021 Houston Market Update Real Estate Statistics For Houston October 2021 Houston is the…
September 2021 Houston Market Update Real Estate Statistics For Houston September 2021 Houston is…
Frequently Asked Questions About Katy, Texas
Is Katy Texas a nice place to live?
Katy is in Waller County and is one of the best places to live in Texas. Living in Katy offers residents a sparse suburban feel and most residents own their homes. Many families and young professionals live in Katy and residents tend to have moderate political views. The public schools in Katy are highly rated. Learn More
Is Katy Texas expensive?
Ratings above 100 indicate living costs above the national average, so Katy is a slightly more expensive place to live than average. While Katy residents typically pay less for costs like groceries, healthcare, and utilities, they tend to pay more than the average American for housing and transportation expenses. Learn More
What is Katy Texas known for?
Katy later became known for rice farming; the first concrete rice driers in the state of Texas were built here in 1944 and still stand as landmarks. The farming community well supported local businesses as several hotels, stores, livery stables and saloons were prospering. Learn More
Does it flood in Katy Texas?
For the most part, with few exceptions, Katy neighborhoods are located in a 500-year floodplain which means that they have 0.2 percent risk for flooding each year Learn More
Does Katy Texas get hurricanes?
Katy, TX is in a very high risk hurricane zone. 52 hurricanes have been recorded in the Katy, TX since 1930. The largest hurricane was Ike in 2008. The most recent Katy, TX hurricane was Bill in 2015.
What famous person is from Katy Texas?
Renee Zellweger (Actress) was born in Katy and is a 1987 graduate of Katy High School, where she was a member of the cheerleading squad. Learn More
Where does Katy Texas get its water?
If you are not within the city limits of Katy, your water is provided by a Municipal Utility District (MUD). To determine which MUD district provides water to your address, please contact the Home Owners Association in your neighborhood or go to the TCEQ site and follow the steps below: type your address, city. Learn More
Does it snow in Katy Texas?
Katy averages 0 inches of snow per year.
How cold does it get in Katy Texas?
In Katy, the summers are hot and oppressive, the winters are short and cold, and it is wet and partly cloudy year round. Over the course of the year, the temperature typically varies from 43°F to 94°F and is rarely below 30°F or above 99°F. Learn More
Who are the top real estate agents to buy and sell real estate in Katy Texas?
Houston Premium Homes Realty Group family has earned its reputation as Katy's Top Real Estate Team by always putting our clients' interests first and making the homeownership process simpler to navigate at every step of the way — from pricing your home to having it ready to sell to promoting your listing, to leading negotiations and closing the deal. Houston Premium Homes Realty Group is a one-stop-shop real estate business and is just part of the reason why so much care and attention is emphasized with each and every client. Contact us today for all your real estate questions!
Buying Property in Katy, Texas?
Search Nearby Katy, Texas