Schedule Your FREE Home Tour Today!
Similar Listings in 77079 Houston
Search Real Estate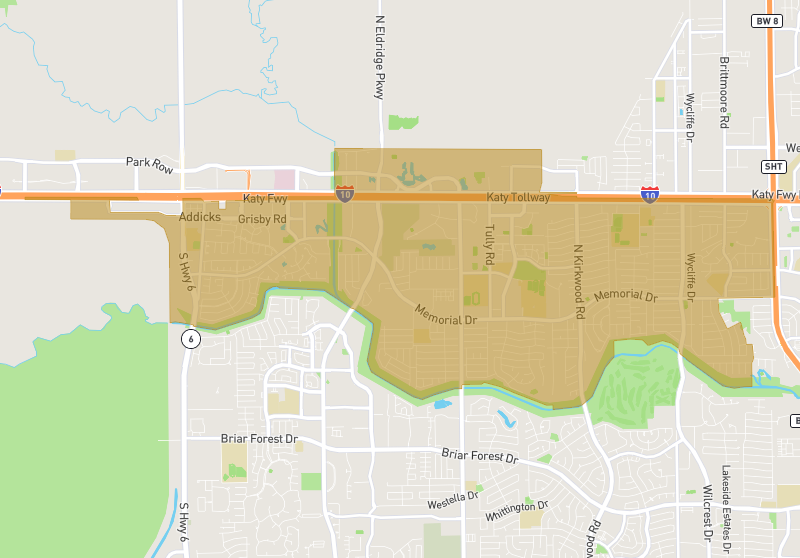 Learn More About Real Estate in 77079
77079 real estate has a small percentage of vacancies. The majority of household are owned or have a mortgage. Homes in 77079 were primarily built in the 1960s or the 1970s. Looking at 77079 real estate data, the median home value of $326,400 is high compared to the rest of the country. It is also slightly higher than average compared to nearby real estate. So you are less likely to find inexpensive homes in 77079. Rentals in 77079 are most commonly 2 bedrooms. The rent for 2 bedrooms is normally $1,000+/month including utilities. 1 bedrooms are also common and rent for $1,000+/month. Prices for rental property include zip code 77079 apartments, townhouses, and homes that are primary residences. [1]
77079 real estate is located in the state of Texas in the Houston metro area. Zip code 77079 is primarily located in Harris County. The official US Postal Service name for 77079 is Houston, Texas. Portions of zip code 77079 are contained within or border the city limits of Houston, TX, . Zip code 77079 is within area code 713, area code 281 and area code 832. 77079 can be classified socioeconomically as a Middle Class class zip code in comparison to other zip codes in Texas. [2]
Economics in 77079
Per capita income in 77079: $57,241
Median household income: $91,375
Persons below poverty line: 9.1%
Mean travel time to work: 27.2 Minutes
Households in 77079
Number of households in 77079: 12,275
Average persons per household: 2.8
Occupied homes / vacant homes: 82% occupied homes / 18% vacant homes
Ownership of occupied homes: 59% owner occupied / 41% renter occupied
Housing in 77079
Number of housing units in 77079: 14,916
Single home units in 77079: 58%
Median value of owner-occupied housing units: $518,900
Moved since previous year: 19.9%
Social in 77079
High school grad or higher in 77079: 92.5%
Bachelor's degree or higher: 62.8%
Foreign-born population: 26.7%
Population with veteran status: 5.4%
Recent News and Advice in 77079 Houston
View All
When you're looking to buy your first home, especially if you have a limited budget, it can seem i…
October 2021 Houston Market Update Real Estate Statistics For Houston October 2021 Houston is the…
September 2021 Houston Market Update Real Estate Statistics For Houston September 2021 Houston is…
Frequently Asked Questions About 77079 Houston
What county is 77079 located in?
77079 is located in Harris County.
What is the crime rate in 77079?

The rate of crime in 77079 is 27.61 per 1,000 residents during a standard year. People who live in 77079 generally consider the northwest part of the zip to be the safest. Your chance of being a victim of crime in 77079 may be as high as 1 in 25 in the south neighborhoods, or as low as 1 in 48 in the northwest part of the zip. Learn More
Is Houston a cool city?

It may be 100 degrees, but Houston is the coolest city in America. Or so says Forbes's list of "America's Coolest Cities to Live." It's because of young people, the arts and culture, but as with everything in Texas (and everything in Forbes), it's also because of the economy. Learn More
Is Houston a good place to live?
Houstonians love their city — and for good reasons — according to new rankings released by U.S. News & World Report. Greater Houston received a 6.9 score out of 10 in for the Best Places to Live list, which is heavily weighted by the Quality of Life and Value categories. Learn More
What is Houston Texas famous for?
Houston is known as the world capital of space exploration, the world capital of air conditioning, the world capital of the international energy industry, the world capital of petroleum exploration and the world capital of capital punishment. Learn More
What is considered a good salary in Houston?
In Houston, the gap between the median income ($46,187) and the ideal income ($56,223) is $10,036 — and the ideal income is even down $4,572 from last year. Learn More
Does Houston have a beach?
Sure, there are no beaches in Houston. But, the sandy shores of Texas are just a short drive away from the city. Furthermore, it's surrounded by a bunch of state parks with rejuvenating lake beaches. So, enjoy a wondrous seaside vacation by visiting any of our handpicked best beaches near Houston, TX. Learn More
Is Houston Texas expensive?
In general, Houston's cost of living is far lower than other major metro areas like New York or San Francisco. By some calculations, Houston is about 19% cheaper than Austin and 5% cheaper than Dallas. San Francisco is estimated to be 179% more expensive than Houston while New York City is 94% more expensive. Learn More
Is it worth moving to Houston Texas?
As one of the most diverse cities in the US, it's no wonder Houston is a popular spot to relocate to. With the second most Fortune 500 headquarters plus strong manufacturing, aeronautics, and healthcare industries, Houston is a great place to live and work. But "H-Town" has more than just a strong industrial backbone. Learn More
Who are the top real estate agents to buy and sell real estate in Houston Texas?
Houston Premium Homes Realty Group family has earned its reputation as one of Houston's Top Real Estate Team by always putting our clients' interests first and making the homeownership process simpler to navigate at every step of the way — from pricing your home to having it ready to sell to promoting your listing, to leading negotiations and closing the deal. Houston Premium Homes Realty Group is a one-stop-shop real estate business and is just part of the reason why so much care and attention is emphasized with each and every client. Contact us today for all your real estate questions!
Contact Us About Homes in 77079
Search Nearby 77079 Houston
Search Nearby Houston, Texas