Homes For Sale in Friendswood Under 600K
Homes For Sale in Friendswood Under 600K
Schedule Your FREE Home Tour Today!
Homes For Sale in Friendswood By Amenities
Homes For Sale in Friendswood By Price
Similar Listings in Friendswood Texas
Search Nearby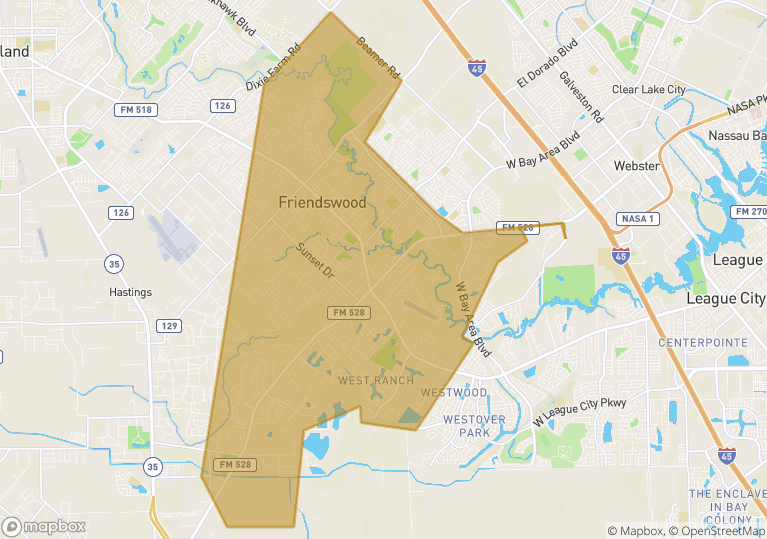 Learn More About Friendswood, Texas
Friendswood is a city in the U.S. state of Texas. It is part of the Houston–The Woodlands–Sugar Land metropolitan area. The city lies in Galveston and Harris Counties. As of the 2010 census, the population of Friendswood was 35,805.[5] In 2007, CNN/Money magazine listed Friendswood as one of 100 "America's Best Places to Live" for that year, making it one of 900 small towns recognized since the rankings first began in 2005.[6] Learn More
Demographics in Friendswood
Population in Friendswood: 39,688
Median age in Friendswood: 39.4
Female population in Friendswood: 51%
Male population in Friendswood: 49%
Economics in Friendswood
Per capita income in Friendswood: $50,568
Median household income: $111,478
Persons below poverty line: 4.1%
Mean travel time to work: 32.5 Minutes
Families in Friendswood
Number of households in Friendswood: 13,214
Average persons per household: 3
Martial status: 64% are married / 36% are single
Women 15-50 who gave birth during past year: 3.3%
Housing in Friendswood
Number of housing units in Friendswood: 14,601
Single units in Houston: 88%
Median value of owner-occupied housing units: $284,100
Moved since previous year: 13.8%
Social in Friendswood
High school grad or higher in Friendswood: 96.4%
Bachelor's degree or higher: 48.6%
Foreign-born population: 8.9%
Population with veteran status: 8.7%
Recent News and Advice in Friendswood, Texas
View All
When you're looking to buy your first home, especially if you have a limited budget, it can seem i…
October 2021 Houston Market Update Real Estate Statistics For Houston October 2021 Houston is the…
September 2021 Houston Market Update Real Estate Statistics For Houston September 2021 Houston is…
Frequently Asked Questions About Friendswood, Texas
Is Friendswood a good place to live?

Friendswood is in Galveston County and is one of the best places to live in Texas. Living in Friendswood offers residents a sparse suburban feel and most residents own their homes. The public schools in Friendswood are highly rated. Learn More
Is Friendswood Texas a safe place to live?
Friendswood ranked one of "Safest Cities in the United States". Using 2019 data, Friendswood ranked second safest in Texas and 48th in the nation. NeighborhoodScout ranks cities with a population of 25,000 or more, based on the total number of property and violent crimes reported to the FBI per 1,000 residents. Learn More
Is there a curfew in Friendswood Texas?
Under the ordinance, juveniles 16 years old and younger are prohibited from being out between 12:01-5 a.m. every day and between 9 a.m.-2:30 p.m. Mon. -Fri., with certain exceptions. Those who violate the curfew are subject to a fine up to $500, according to the ordinance. Learn More
What is Friendswood Texas famous for?
Friendswood, situated in the northwest corner of Galveston County, has the distinction of being the only permanent town in Texas that started as a Quaker colony. It was established in 1895 by a group of Quakers led by T. Learn More
How far is Friendswood Texas from the beach?
Large city complex - Southeast Texas, 50 miles inland from the Gulf Coast. Learn More
How far is Friendswood from Houston?
There are 18.91 miles from Friendswood to Houston in northwest direction and 23 miles (37.01 kilometers) by car, following the I-45 N route. Friendswood and Houston are 29 minutes far apart, if you drive non-stop. Learn More
Does Friendswood Texas flood?
Flood Risk in Friendswood. Friendswood is an inland city, yet it is still affected by storm surge from Galveston Bay and riverine flooding from our four major creeks and their tributaries. Learn More
Is Friendswood rich?
The per capita income in Friendswood in 2018 was $50,568, which is wealthy relative to Texas and the nation. This equates to an annual income of $202,272 for a family of four. Friendswood is a very ethnically-diverse city. Learn More
Why is Friendswood called Friendswood?
Feeling this surely was their "Promised Land," they negotiated with the owner, Galveston banker J. C. League, for a deed of trust, and on July 15, 1895 they recorded the name of the colony at the Court House in Galveston. They named it Friendswood. Learn More
Who founded Friendswood Texas?
A collection of historical photos show Friendswood at the turn of the 20th century when it was a burgeoning farming town. The town, founded in 1895 by a Quaker named Frank J. Brown, was bolstered by a cadre of fig and satsuma orange orchards, but also rice fields. Learn More
When was Friendswood High School built?
Friendswood High School was built in 1940
Who are the top real estate agents to buy and sell real estate in Friendswood Texas?
Houston Premium Homes Realty Group family has earned its reputation as Friendswood's Top real estate team by always putting our clients' interests first and making the homeownership process simpler to navigate at every step of the way — from pricing your home to having it ready to sell to promoting your listing, to leading negotiations and closing the deal. Houston Premium Homes Realty Group is a one-stop-shop real estate business and is just part of the reason why so much care and attention is emphasized with each and every client. Contact us today for all your real estate questions!