3 Bedroom Homes For Sale in Baytown
3 Bedroom Homes For Sale in Baytown
Schedule Your FREE Home Tour Today!
Similar Listings in Baytown, Texas
Search Nearby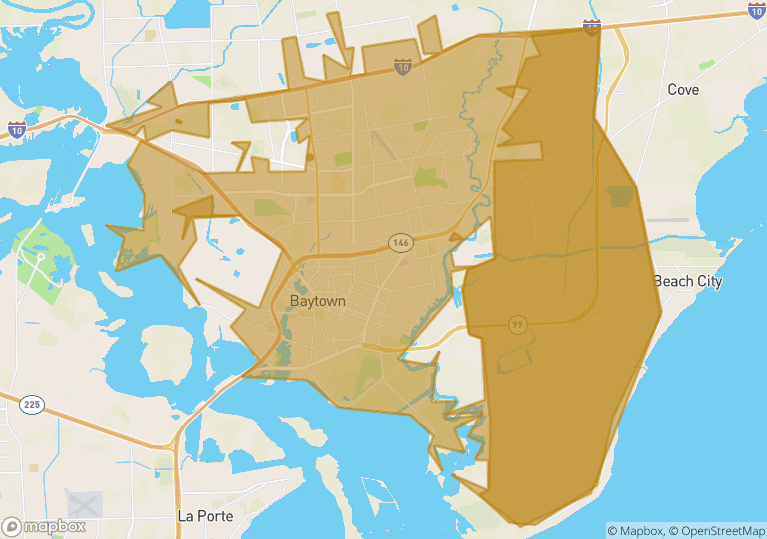 Learn More About Baytown Real Estate
Baytown is a city in the U.S. state of Texas, within Harris and Chambers counties. Located in the Houston–The Woodlands–Sugar Land metropolitan statistical area, it lies on the northern side of the Galveston Bay complex near the outlets of the San Jacinto River and Buffalo Bayou [1]
Baytown is a larger medium-sized coastal city (i.e. on the ocean, a bay, or inlet) located in the state of Texas. With a population of 77,192 people and 18 constituent neighborhoods, Baytown is the 46th largest community in Texas. Because occupations involving physical labor dominate the local economy, Baytown is generally considered to be a blue-collar town. 38.44% of the Baytown workforce is employed in blue-collar occupations, compared to the national average of 27.7%. Overall, Baytown is a city of construction workers and builders, sales and office workers, and service providers. There are especially a lot of people living in Baytown who work in office and administrative support (10.08%), sales jobs (8.21%), and food service (7.78%). Baytown is also nautical, which means that parts of it are somewhat historic and touch the ocean or tidal bodies of water, such as inlets and bays. Quite often, nautical areas such as these attract visitors and locals who come to enjoy the scenery and various waterfront activities. [2]
Economics in Baytown
Per capita income in Baytown: $26,615
Median household income: $57,270
Persons below poverty line: 15.1%
Mean travel time to work: 25.1 Minutes
Homes in Baytown
Number of households in Baytown: 26,474
Average persons per household: 2.9
Occupied homes / vacant homes: 91% / 9%
Ownership of occupied homes: 57% owner occupied / 43% renter occupied
Housing in Baytown
Number of housing units in Baytown: 29,212
Single home units in Baytown: 63%
Median value of owner-occupied housing units: $119,900
Moved since previous year: 18.1%
Social in Baytown
High school grad or higher in Baytown: 77.9%
Bachelor's degree or higher: 15%
Foreign-born population: 18.2%
Population with veteran status: 5.8%
Recent News and Advice in Baytown, Texas
View All
When you're looking to buy your first home, especially if you have a limited budget, it can seem i…
October 2021 Houston Market Update Real Estate Statistics For Houston October 2021 Houston is the…
September 2021 Houston Market Update Real Estate Statistics For Houston September 2021 Houston is…
Frequently Asked Questions About Baytown, Texas
What is Baytown Texas known for?
Baytown, a highly industrialized city of oil refining, rubber, chemical, and carbon black plants, is on Interstate Highway 10 and State Highway 146, thirty miles east of downtown Houston in southeastern Harris and western Chambers counties. Learn More
How far is Houston Texas from Baytown Texas?
The total driving distance from Houston, TX to Baytown, TX is 26 miles or 42 kilometers.
Who are the top real estate agents to buy and sell real estate in Baytown Texas?
Houston Premium Homes Realty Group family has earned its reputation as Baytown's Top Real Estate Team by always putting our clients' interests first and making the homeownership process simpler to navigate at every step of the way — from pricing your home to having it ready to sell to promoting your listing, to leading negotiations and closing the deal. Houston Premium Homes Realty Group is a one-stop-shop real estate business and is just part of the reason why so much care and attention is emphasized with each and every client. Contact us today for all your real estate questions!
Contact Us About Baytown, Texas
Search Nearby Baytown Zip Codes
Search Nearby Baytown, Texas